The brands or businesses who are planning to implement a digital experience platform are often looking at a range of customer's pain points that they want to address. If you wish to ask whether or not DXP strategy would work for your brand, these are the five points to consider before formulating your own.


Is your goal true digital transformation?
When organizations and teams start expanding, the functionalities grow and capabilities mature. True digital transformation can begin from a CMS which is easily scalable and deployable on the cloud. It has a range of API which come into place for fluid integrations. But what you must do at this stage is define your future goals and the scope of the project. Project management is among the key deciders. For any business, there must be internal communication to define questions such as -
What exactly would you want to do with your customer experience project?
What is the right framework for this?
Do you want to be agile with MVP or minimal viable projects?
Have you found the right consulting partner?
Are the technology decisions made yet, or not?
Is your brand moving towards digital commerce?
When your brand looks for digital commerce, the methodology for DXP becomes rather complex. The vendors may provide you different commerce technology based on individual requirements. For defining this, the internal teams must answer following questions -
What exactly are your commerce requirements- browse, buy, and pay, or something more intricate?
What approach is right for your business- side by side, or headless?
Do you have large SKUs where DXP can offer you concrete and scalable digital commerce solutions?
How is the model of data within your firm- are there different teams or are they combined?
Do you have multiple touchpoints?
Tech Pro Research conducted a survey in 2018 where 70% of the companies said that they were either already in the process of implementing a strategy for DXP or are planning to start one. The respondents said that the driving forces for use of DXP strategy are multiple touchpoints, such as-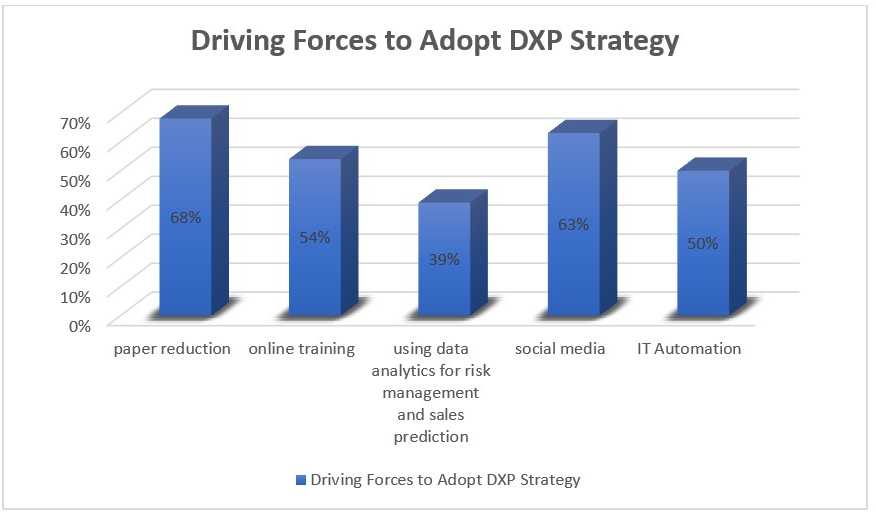 Survey respondents listed paper reduction (68%), online training (54%), and using data analytics for risk management and sales prediction (39%) as driving forces behind their digital transformations. Other active areas of digital implementation include social media (63%) and IT automation (50%).
Digital transformation is largely dependent upon your organization's level of digital maturity. Evaluation of the stage where your business is, can help you understand how to go ahead. Digital maturity is the measurement criteria of your business's ability for creating value through digital medium. Understanding of the level of digital maturity can help a business in formulating the roadmap to digital transformation. A digital experience platform can come into the picture once an organization knows their position in the hierarchy of digital maturity.
What kind of audience do you have?
Audience diversity is among the key reasons for radical re engineering of business. If your brand has an audience that wants experience like Apple, Facebook and Apple, DXP strategy must be considered. Airbnb and Uber are the examples to consider here. Such brands have an audience that requires multiple accomplishments. From bookings to payments, ratings and reviews to social media tagging, there's multiple touch points that the audience needs.
If your present scenario reflects siloed systems which are not integrated, DXP strategy could be the call you can take now. While answering this question, you shouldn't look for what's now, but what's ahead and where you would want to see your brand down the line. DXP vendors may take your unique requirements in mind before creating a digital experience platform that suits your business the best. A good DXP can contribute to your digital transformation strategy.