Recovery in the financial sector shall continue in 2022 according to the World Bank report at a moderate global growth rate of 4.3%. However, the global GDP shall continue to dwindle by around 2% in 2022, lower than the projections of pre-pandemic times. In this situation, to improve their ROI (return on investment) financial organizations are now compelled to ramp up their technological investments focused on digital transformation. In this blog, we're going to discuss key developments around fintech, digital payments, blockchain technology, and other digital initiatives.
Driving Digitalization with Fintech
The market size of global digital payment will increase from USD 89.1 billion in 2021 to USD 180.4 billion by 2026, according to a report by marketsandmarkets. The rise is attributed to worldwide demand for the promotion of digital initiatives, owing to factors such as the preference for digital payments, mCommerce growth, rise in eCommerce sales, smartphone proliferation, and exploding internet penetration in even the remotest regions. (Fig.1)

Digital Payments
To meet the demand for seamless transactions in the present times, there has been a surge in eWallets for bill payments, Customer to Business (C2B) payments, and Peer to Peer (P2P) transfers. In 2020, there were 2.6 billion connected smartphones across the world, indicating that it is the dominating internet access tool. It enables carrying digital card information, which makes eWallet a popular digital payment option. While the market size of global payment processing solutions is predicted to reach USD 120.7 billion by 2025 at a CAGR of 10.2% over 5 years, a report suggests that by payment method, eWallet is the most promising option (Fig. 2).

Fintech revolution with Blockchain
The global market size of blockchain technology is expected to increase at a compound annual growth rate of 82.4% from 2021 to 2028, as per Grand Review Research report. Today large financial enterprises, such as HSBC, Barclays, Intesa Sanpaolo, and BBVA are making use of blockchain technology for streamlining their fund processes and KYC completion. Smaller and medium organizations are using this technology for scaling tasks like processing payments, financing, and selection of subsidiary services. With proper use of blockchain technology, Fintech can develop a concrete ecosystem of secure and transparent apps. The image below shows how blockchain technology occupies the most share in the European market. (Fig.2)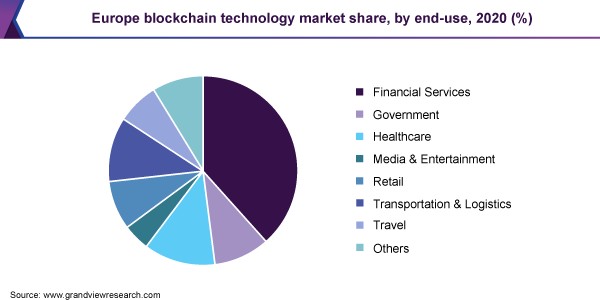 Worldwide initiatives for driving digitalization
Payment digitalization is a critical factor in promoting a country's economic health. Connecting finance to technology can promote economic growth, while also boosting productivity, improving transparency, opening new economic avenues, and increasing tax revenue. There have been important initiatives and an urge to use new technologies across countries. Initiatives like Digital India help drive Financial inclusion for the rural population in India. The Monetary Authority of Singapore (MAS) is trying to reduce visits to Financial Institutions (FIs) by promoting banking apps, digital payments, and internet-based financial services.
Complexities in Digitizing Finance Industry
Complexities around the financial sector include a wholesome transformation that involves running credit risk modeling. Adding cyber resources, security fixes, and bolstering risk management has become essential to executing digital transformation in finance and beyond. Digital tools, processes, and resources are inclined towards the enhancement of data integrity, data security, financial transparency, innovation, and execution.
Way Ahead
Even while eWallets have become highly popular, the complexities and increased fees of wallet providers still restrict leading merchants to accept such wallets. Another complexity includes the absence of unified global payment systems. With the world shrinking and eCommerce catering worldwide, there has been a considerable increase in cross-border trade. However, the lack of global standards, government regulations, data storage compliances, and the absence of uniform payment systems make it difficult for the payment vendors to capitalize on opportunities.