Facebook launched a new remote work app based on virtual-reality office space, which enables interactive meetings by avatar creation. The largest social media company announced recently that the Oculus Quest 2 headsets users shall be able to hold meetings by becoming their own avatar versions. This new lunch is called Facebook's Horizon Workrooms app; and is developed with the VR-acquired company, Oculus. At present, Facebook is testing the beta version of this app.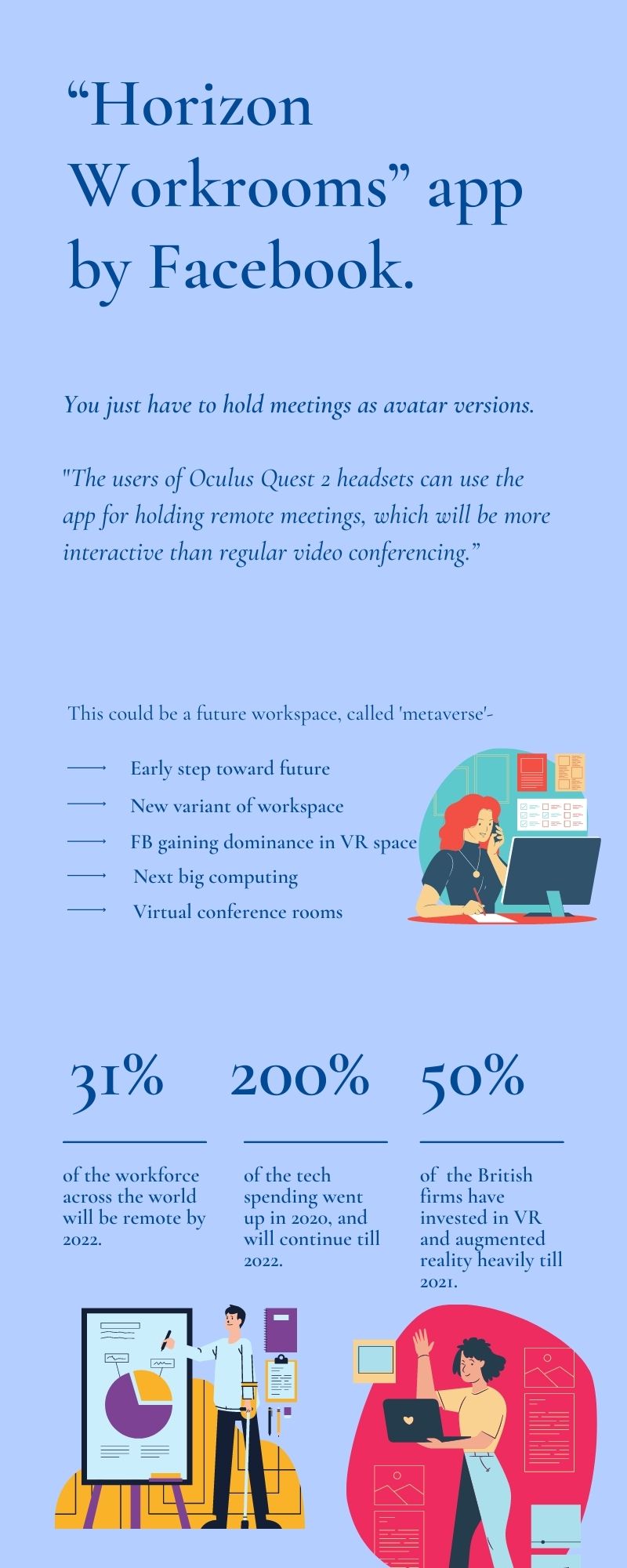 Facebook said that since it is expecting remote working to be a part of the working culture in future, this would be a new interactive method of communication, and shall be called 'metaverse'. The company has been working on virtual reality and augmented reality by investing heavily in the two spaces. In its recent F8 Conference, Facebook had also unveiled the AR glasses.
Facebook had recently conducted a news briefing explaining how users of the Workroom app can build the avatars and use them in VR conference rooms. Additionally, the app also allows sharing whiteboard documents, while a user can still use a computer keyboard, and interact with a physical desk.
Facebook Horizon Workrooms app is free to download, but requires  Oculus Quest 2 hardware, which costs around $300. The app enables 16 people at a time to be together in the VR conference, while there can be a total of 50 people in the video conference.
'Metaverse' is a term that comes from a dystopian novel of 1992, called 'Snow Crash'. The term is used for describing shared and immersive spaces which can be accessed across all platforms, bringing the digital and physical world together. Mark Zuckerberg, the founder of Facebook describes the concept as "embodied internet." Virtual reality workspace is also a part of digital experience.
Companies levelling up to spend in VR-AR
While the demand for virtual reality and augmented reality has been there for a while now, the pandemic pushed the growth of the VR-AR sector. According to Fidelity, tech spending in this space had increased 100-200% in 2020 when compared with 2019. The same will continue to grow by 2022 and beyond.
Warner from Fidelity says, "I think the pandemic has changed people's perception on what's possible and what's feasible."
Remote working and hybrid work cultures have become the center of new work culture. But to be able to fully utilize VR-AR innovations, certain constraints must be tackled. These include battery life, limited display size, and processing power. A range of start-ups are now getting into this market by creating simpler and cheaper ways towards smooth remote working.