A recent report by Lumoa highlights that as many as 55.5% of the companies feel personalization and improvement of customer experience is their top priority. The brands who sell the excellent digital experience through the latest digital experience trends are here to rule the game of user experience or customer experience. A poor service is bound to impact your brand. In fact, 33% of the customers are quick to switch companies immediately after a brand has served them poor service. In our previous blog, we talked about why DXP strategy should be included while creating user experience. Here are some of the latest trends in digital experience that will help you ace this game of DXPs.
Implementation of Habit Loops
Implementation of habit loops keeps your customers engaged with the brand. Social media is the perfect example of a habit loop. One may refer to it as the strategic technology trend. Some of the big names have been using this trend for several years, while other brands realize that they need to catch up with the trend.
Look at the picture below-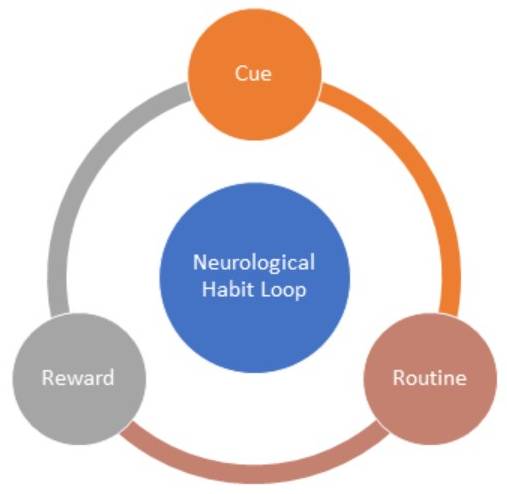 The notification ping becomes the cue. The customer is enticed to check this notification, which becomes their routine. This is followed by reward in a way that they receive a comment or a message from friend or family. This is largely used by social media, but the same can be implemented by the brands. Giving offers, discounts and coupons for a few hours can be replaced in the reward column.
Habit loop can make a customer addicted or excited about a brand; but overdoing can also push away your customers. Moderation is the key.
Smart Speakers to shake up UI design
Google has already shown the way for voice-assisted commands and interactions for searches. This is among the technology trends that are going to rule the DXPs in the times to come. The developers are vested with the responsibility of creating contents that would cater to human speech patterns. It is the kind of interaction that will enhance user experience and will most likely also jolt the UI designing; especially when it comes to responsive DXP apps.
Strategic Data Monetization
Customer data is among the most crucial assets of a company in the present times. The firms need to emphasize a 720-degree view of the user experience. This begins with a traditional data system, which is still a 360-degree view. Overlay this mechanism with the Internet-of-Things which is another 360-degree view of user experience. Buyer persona is largely taken into consideration to understand a customer's habit and behaviour.
Thereafter, AI and Big Data are used for unfolding these strategic technology trends that would come to rule the DXPs ahead. Monetizing the silo of data from DXPs can help brands in data monetization for driving revenue and optimal customer service.
Smart chatbots
What customers expect from brands is excellent service. While chats and mobiles are an excellent tool for customers to engage quickly with the brands, as many as 40% of the customers think that the brands must take care of their needs quickly by replying fast. The chatbots have to be designed to be quick, knowledgeable and pleasant. 69% of the customers spend more time with those brands which offer good customer service. DXPs can be optimized for chatbots as well.
Defining Quantified Differentiation
Defining the quantified differentiator is what makes you stand out as a brand. The customers are expecting higher expectations from your brand as compared with your competitors. The Gartner Customer Experience in Marketing Survey in 2017 defined that 81% of the brands are more likely to compete on the CX front. Differentiation begins by brand positioning and establishing yourself as a company that does things differently.
While deciding the technology trends for your brands, remember to answer one simple question- what's best for your customer? When you have the answer to that, you have the answer to the best digital experience trends for your brand.